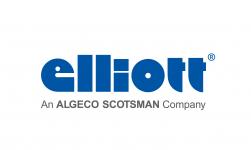 Elliott is the UK's largest provider of rental accommodation facilities including portable cabins, modular buildings, secure storage, portable toilets, temporary kitchens, temporary fencing and design & build fast track buildings provided from over 50 locations throughout the UK.
Consisting of three specialist divisions Elliott has a diverse range of products and services and has been providing solutions to every market sector since 1963.
Elliott divisions are:
Elliott - Hire
Elliott – Modular Buildings to lease or buy
Elliott – Off-Site Building Solutions
Elliott Hire is the largest division of Elliott and provides the widest range of products including the UK's widest range of energy saving solutions. Buildings are available to hire from immediately available stock nationwide together with a range of associated services.
We specialise in the provision of rental accommodation facilities that are also available to buy. Elliott provides a fast and effective service to ensure customers receive the most modern advanced facilities dedicated to their specific requirements.
Elliott is part of Algeco, a subsidiary of Algeco Scotsman, the world leader in modular space and secure storage solutions. Operating as Algeco in continental Europe, Elliott in the United Kingdom and Williams Scotsman in North America, the group manages a fleet of more than 345,000 units with operations in 21 countries throughout Europe and North America. The company's legacy is grounded in its reputation for exceptional customer service, effective management of business operations and consistent product innovation. Algeco Scotsman's global presence combined with its local market expertise provides exemplary service tailored to meet the unique needs of customers throughout the world.
Contacts
Click here
 to download the Elliott Contact Details and Escalation Process document
Account Manager
Christine Lamont
Customer Development Manager
Mobile:07525 274271
Internal Sales Director
Amanda Jones
Mobile: 07966 765270
Regional Account Managers
North West
Darren Holland
Mobile: 07885 271252
North East
Richard Crawshaw
Mobile: 07976 521519
Midlands
Dave Barlow
Mobile: 07793 794443
South West
Dave Montgomery
Mobile: 07792 475096
South East  
Paul Burns
Mobile: 07896 676047
Single Point of Contact:Tel 0844 264 0874
Elliot Hire
Central Hire Office
Suzanne Horner
Manor Drive
Peterborough
PE4 7AP
Phone: 0844 264 0874
Fax: 01733 579260
Other Contacts
Gordon MacDonald - Hire Divisional Director
Brian Sutherland – Health & Safety Manager
Mobile: 07976 521557
Mike Harper – Assistant Health & Safety Manager
Mobile: 07976 521541