Established in 1977, Speedy are the UK's leading tools and equipment hire company. In addition to our industry-leading range of high quality and fully tested products, we provide training, testing inspection and certification services, as well as consumable and equipment sales.
Our mission is to provide safe, reliable hire equipment and services to enable the successful delivery of customer projects. Our commitments to our customers are always underpinned with health, safety and environment at the forefront of our mind, ensuring that we remain a responsible business.
OVER 40 YEARS OF DELIVERING EXCELLENCE
Over 46,000 customers
More than 300,000 itemised assets available for hire
1,060 vehicles
More than 3,700 employees
200+ depots across the UK and Ireland
Our services include the hire and sale of equipment from large powered access booms through to cordless drills, to PPE and consumables, on-site training and apprenticeships, as well as testing inspection and certification services.
Hire
Our 3,500+ product lines include everyday tools and equipment, through to more specialist lifting, survey, powered access, rail and power generation equipment. Click for more details…
Consumable and Equipment Sales
You can purchase any of our products, with over 8,000 core products and 36,000 in our extended range. Click for more details…
Now a part of Speedy, offers customers an extensive range of safety and skills courses with a wide variety of apprenticeships, NVQs and professional skills training. Click for more details…
Over 200 years' experience in testing inspection and certification services. We'll help you manage your lifting systems and the complex regulations that surround them. Click for more details…
CAPITAL COMMITMENT our industry leading delivery promise guarantees nationwide 4-hour delivery or you will get 1 week's free hire – T&Cs apply. Click for more details…
SPEEDY DIGITAL - Whether you're on site, at home, in the office or on the go, Speedy Digital is always here for you.
Download the Speedy App from the App Store/Google Play or register for MySpeedy at https://www.speedyservices.com/login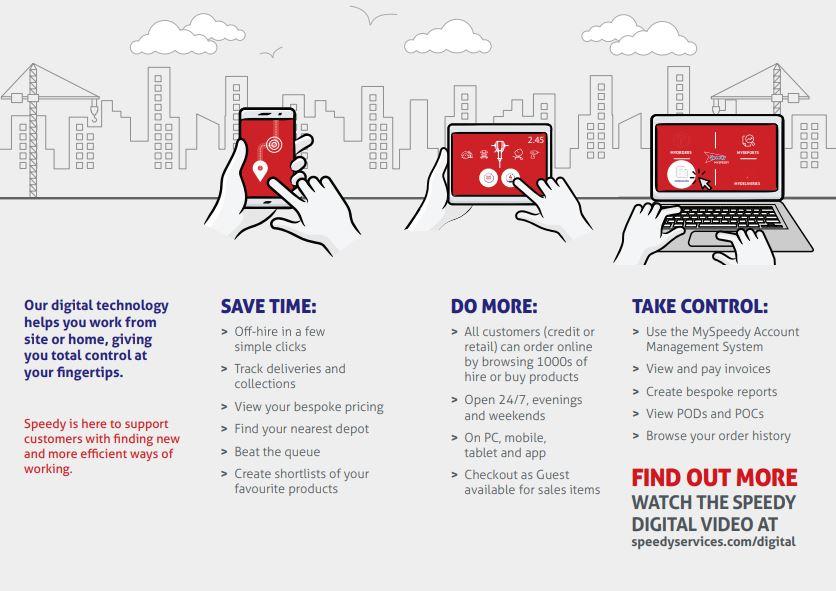 The Morgan Sindall Plant Hire Desk
Speedy and the Morgan Sindall Plant Hire Desk offer you:
A One Stop Solution for equipment hire and sales
Tailored reporting and management systems including consolidated invoicing, a single point of contact for all requirements
The experience and expertise of supporting and servicing large engineering and civil projects, with capability to deliver against our promises
24 hour call out backed by a nationwide coverage
Design, manufacture and installation
Health and Safety, the award winning Intelligent Safety campaigns
Proven Corporate Social Responsibilities
For more information about Speedy, our service or product range please visit www.speedyservices.com or contact us at:
T: 0845 6011 013  Infrastructure
T: 0845 6011 015  Construction
Email: planthiredesk@morgansindall.com
The Morgan Sindall team are:
Gemma Askey - Team Manager - gemma.askey@speedysevices.com
Joanne Deegan - Perfect Delivery Manager - joanne.deegan@speedyservices.com
Guy Churchill - Account Director - guy.churchill@speedyservices.com